This is our very first guest and we are so happy that Meaghan from The Decorated Cookie is sharing one of her fun creations today with all of our followers! She makes the cutest stuff and just came out with her new cookbook Sugarlicious! Such a great book…I absolutely love mine! Adorable recipes and lots of awesome tips and tricks on how to make fun goodies! You can purchase here and I have also seen it at Target and other book stores. If you see it…get it!
We had a Sugarlicious Giveaway last week during our Kitchen Fun and Crafty Friday link party and Kayla Gerard of Kayla's Kreations is the lucky winner of this wonderful book! Please email me Kayla and we will get that sent right out to you!
Thanks Meaghan for sharing these super cute Marhsmallow Bug Pops with us!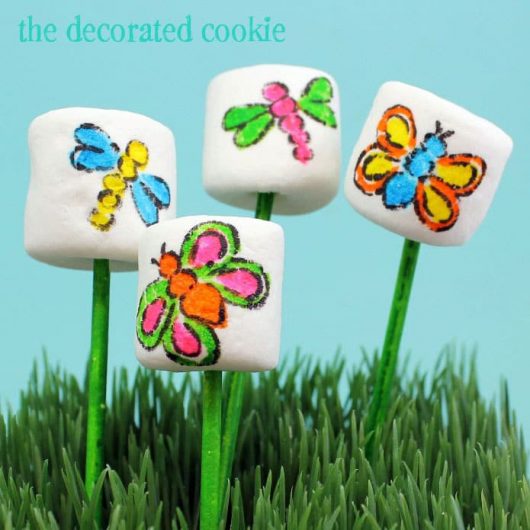 Hello everybody! Thanks so much to Jill for having me visit today!
This is me in a nutshell: I write the blog the decorated cookie. And I'm the Edible Crafts editor over at Craft Gossip. And my book was just published, Sugarlicious (woo hoo!). I live in Washington DC with my husband, 4-year old daughter and our three kitties. Clearly, I'm a big fan and follower of all food crafts, so I'm super crazy impressed by all the clever, cute, and doable treats, snacks, breakfasts, lunches and dinners Jill cooks up for her kiddos. She never exhausts her ideas for tricking her boys into eating vegetables and fruits through food art! Though I'm partial to all the brilliant s'mores pops she creates. Simply amazing.
I tend to stick with just the sweet stuff. One of my favorite all-time go-tos for decorating sweets: Drawing on marshmallows with food coloring pens. And then adding a lollipop stick of course (when in doubt, add a stick is my credo). You an create edible art in seconds, and as a bonus, my daughter looooooves to draw on marshmallows, too.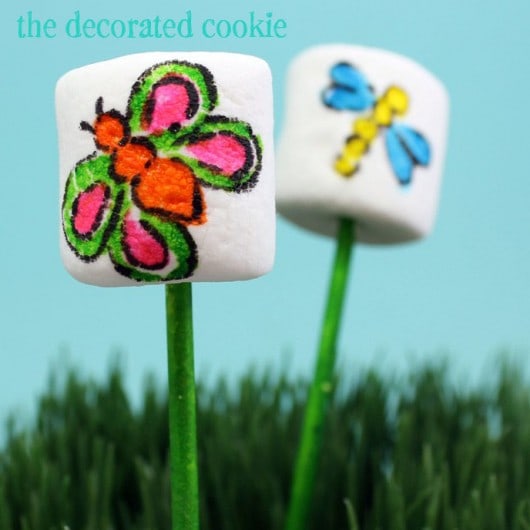 To make butterfly and dragonfly marshmallow pops:
You will need:
marshmallows
lollipop sticks
food coloring pens
food coloring (green or any other color)
wax paper
paint brush
*Find the lollipop sticks, food coloring and paint brush at the craft store. You may also find food coloring pens there, though I recommend Americolor Gourmet Writers or the FooDoodler Fine Line pack of ten, both available in specialty stores or online. I have a whole post all about food coloring pens HERE.
What to do:
First, paint your lollipop sticks. Mix a few drops of green food coloring (or any color you like) with a couple drops of water on a piece of wax paper. Paint the lollipop sticks and let them rest on the wax paper until dry. Use the food coloring pens to draw your butterflies and dragonflies (or anything!). Skewer the marshmallow with a lollipop stick and that's it!
Thank you to Jill and all the fans of Kitchen Fun with My 3 Sons for hosting me today!!
meaghan