Macaulay Culkin Shows Off His Hilarious 'Home Alone' Inspired Mask
Since we are all wearing masks this year, why not have some fun with them? There have been many super fun and even hilarious mask designs showing up in almost any store you go to. Check out this Home Alone mask that Macaulay Culkin shows off!
Macaulay Culkin
Macaulay Culkin is the famous little kid in all the Home Alone movies. He was hilarious in all of those movies that have become classic ones to watch with your kids every year. Now that he is an adult, he is still hilarious!
He recently tweeted during his birthday. He shared that he is now 40 years old and is not that little kid we grew to love from the movies.
Hey guys, wanna feel old?

I'm 40.

You're welcome.

— Macaulay Culkin (@IncredibleCulk) August 26, 2020
Not only that, but he also showed what his 2020 staying home alone really meant and not what the movies portrayed in his hilarious photo on Instagram. He said, "This is what an updated Home Alone would actually look like."
Home Alone Mask
Recently he posted a picture of him wearing a mask. But, not just any mask, a Home Alone mask! He shared on Twitter, "Just staying Covid-safe wearing by the flayed skin of my younger self. Don't forget to wear your masks, kids."
Some people were upset by his post; however, most thought it was funny. One commenter joked, "Who needs a mask if they're alone at home though?"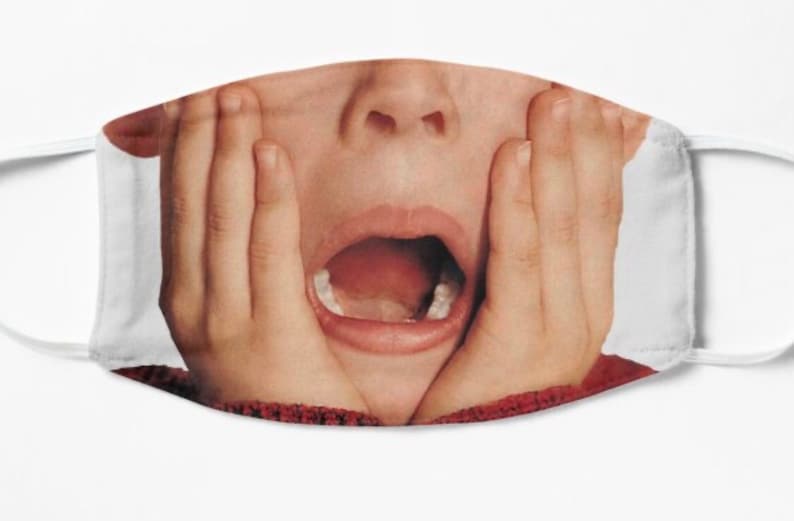 You can get your own Home Alone mask off of Etsy HERE!
It is made of cotton and polyester. This mask will also come with adjustable straps of elastic along with a filter pocket as well. You can relive your childhood with one of these Home Alone masks!
Macaulay Culkin is so funny and I love that he was willing to support wearing a mask with his funny Home Alone Twitter post!