Many have taken up new hobbies and discovered talents during this quarantine. One of the most popular hobbies right now is crocheting, which is such a fun activity that is also very relaxing. So, why not crochet your own baby doll today?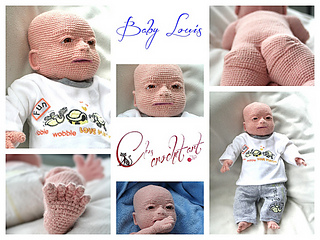 Crochet Baby Doll
These baby dolls are super cute and would be such a fun project to do while you are staying at home. What is so special about them is that they are completely unique! If you make this for your child or grandchild, they will treasure this forever since it is handmade by you and is so unique.
Not only are these baby dolls soft and cuddly, they even look like a real baby, which is so cool and will help your little one feel like they do in fact have a real baby.
This will be a toy that your child plays with for a long time, instead of the plastic baby dolls from the store. These baby dolls are more cuddly and last a lot longer.
Crochet Pattern
There are two main patterns for these baby dolls, both from the same person! First, you can order one for a baby boy doll. This pattern is named Baby Louis. Or, if you prefer a girl baby doll, you can order her pattern called Baby Emily.
These two patterns have some cool features that really make this crochet baby doll really stand out. First off, the eyes are made so that they can actually be open or shut. Then, the mouth is made open so that you can put a baby pacifier in its mouth.
It also can fit real baby clothes, size newborn. When finished, it will be around 49cm. With these features, your child will have a real baby to play with!
Where to Order
You can find Baby Emily and Baby Louis patterns off of Ravelry! They are both the same price, around $6. What a fun and unique project to take on during these next few months all the while staying at home.