We all love and enjoy our summertime; however, even something as amazing as the summer can have negatives. For example, mosquitoes. No one likes mosquitoes and no matter how hard we try, they are always present and annoying. However, you should try out these mesh pants that help keep the mosquitoes away while still wearing your favorite shorts all summer long!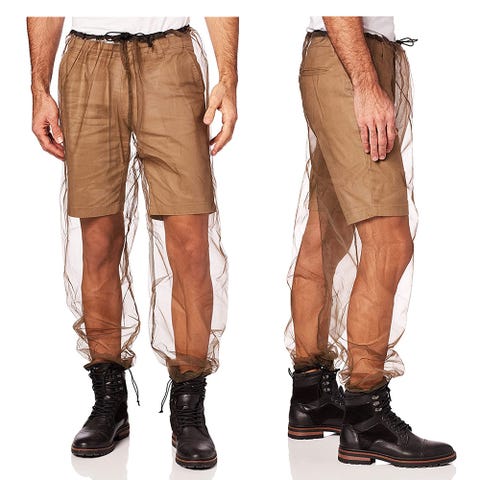 Yes, they may look a little silly, but they sure do get the job done! I would rather look a little weird than be itching all night long from getting too many mosquito bites!
These pants are called Coghlan's Bug Pants. They are full-length pants made from an ultra-fine mesh. After you get them on, these pants have drawstrings at the waist and each leg so you can tighten so absolutely no bugs get in at any of the holes.
Of course, they are extremely lightweight and keep you cool, so you will have no problem wearing them during your 90 degrees and up days in the sun.
Not only do they keep you from getting bit by a mosquito, but they also help protect you from ticks and no-see-ums. You will be protected throughout your entire camping trip with these bug pants!
Where to Order
The best part about the Coghlan's Bug Pants is that you can find them right on Amazon!
They are $12.22. These pants come in multiple sizes to fit everyone's needs. They are also unisex so you can share it with your entire family if you want!
Make sure to look at the sizing so you can get the correct fit. For example, a medium says it will fit up to 200 pounds. You don't want them too snug, or too big either!
Some people might think these mesh pants to keep the mosquitoes away might be a little ridiculous. However, I think they are such a great idea! If you get bit by mosquitoes as much as I do, you will want to be sure to add these to your cart right now!